Rev. Brandon Johnson, United Church of Santa Fe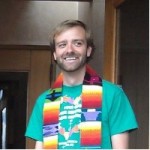 New York City, September 21, 2014
On Sunday morning, September 21, the audible evidence of our growing dependence on fossil fuels stirred me from sleep. A beep, another honk, and the screeching of tires – the sounds of traffic greeted me as I rolled out of bed and slipped into my United Church of Santa Fe, Love God, Love Neighbor, Love Creation, t-shirt.
I quickly walked to Union Theological Seminary where a small group of faith leaders gathered before making our way to the Climate Change March.  As our small group departed it became evident that the streets, sidewalks, and subway were buzzing with excitement about the March.
It was a challenge to push my way into the subway car.  T-shirts, buttons, posters, and flyers were common-place as a growing pack of people made their way to central Manhattan. Our group exited the subway at 66th St. and walked toward 58th street.  A gathering for people of faith had been organized on the block between 8th and 9th Ave.
As I approached the energy in the air was undeniable.  I could hear songs and prayers floating from the stage. This Little Light of Mine, God's got the Whole World in His Hands, and a Muslim call to prayer greeted others and me as we joined the other faithful prior to the march.For nearly two hours we sang, prayed, and meditated in preparation for joining the Climate Change March.  Singing and prayers still in the air – we joined the other marchers.
Words cannot describe the feelings, emotion, or spirit of that time.  People of faith joined a crowd of nearly 400,000 people marching, singing, praying, and moving for the environment – for the world's future.Two hours, nearly 400,000 people, countless prayers, moving spirituals, energetic feet, and an unbelievable spirit – we marched. We marched for the mountains of New Mexico, for the waterways of the Midwest, for the children of India, for the countless creatures who would fall victim to human caused disaster, and we marched for our own lives.
Today, I pray that the United Nations, the US government, countless corporations, and millions of individuals will continue to feel the power of our steps and the strength of our voices as we marched in recognition of what is happening in this world.  It's bigger and broader than any of us can imagine.I believe New York was a turning point, because we stood and marched together.  It wasn't about one group, one single environmental issue, or non-profit.  It was about thousands of feet on the pavement moving with a common understanding – climate change is real, the environment matters, and we are called to act individually and collectively.
Snap Shot of photos from Albuquerque and Santa Fe Climate Marches where collectively more than 1,100 people prayed, walked, learned, sang and said We Need to Act NOW on climate change.
Participants added support to EPA new guidelines on Clean Power addressing coal power plant emissions and for more renewable energy as San Juan generating power plant closes two coal power plant stacks.