The Rev. Canon Sally G. Bingham
President and Founder
Sally has brought widespread attention to the link between religious faith and the environment through her work on The Regeneration Project and the Interfaith Power & Light campaign. As one of the first faith leaders to fully recognize global warming as a core moral issue, she has mobilized thousands of religious people to put their faith into action through energy stewardship. Sally serves as Canon for the Environment in the Episcopal Diocese of California and is the lead author of Love God Heal Earth, published by St. Lynn's Press in 2009. In 2012, Sally was awarded the Audubon Society's Rachel Carson Award for her environmental leadership. Sally is pictured here with her dog, Obi. Download Sally's full bio.
[content courtesy of National Office of Interfaith Power & Light]
"ADVOCACY: Priest strikes sparks among the faithful using climate change" [excerpt]
Elizabeth Harball, E&E reporter
Published: Tuesday, February 26, 2013
When it comes to linking power politics, religion and climate change, the Rev. Sally Bingham does not hold back.
Hanging prominently in the office of her organization, Interfaith Power and Light (IPL), in San Francisco, is a photo of her being arrested at a 2001 protest against drilling in the Arctic National Wildlife Refuge. Kneeling in prayer, she and 21 other demonstrators blocked the doorway to the Department of Energy. In the photo, Bingham stares straight at the camera as a police officer handcuffs her. She later described the moment as a "religious experience."
Bingham, an Episcopal priest, is using IPL to evangelize churchgoers to take action on climate change.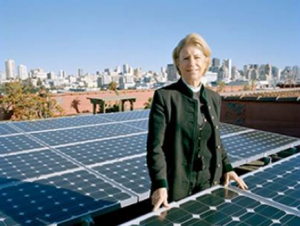 The Rev. Sally Bingham stands amid newly installed solar panels on the rooftop of one of the churches in her alliance, called Interfaith Power and Light. Photo courtesy of her office.
She started with 60 Episcopal churches in California in 2001. Since then, IPL has grown to 14,000 religious communities in 40 states, connected on ways to save energy and reduce emissions. Her ongoing work at particular churches is also getting people in the pews more involved in pushing state and national climate legislation.
Along the way, Bingham, 71, has picked up some powerful friends, including Mary Nichols, head of the California Air Resources Board. "She shows up at events wearing her clerical garb, as she's entitled to do," Nichols said. "It has a way of disarming people."
"Her connection to the interfaith community helps create a message that reaches out to more people than just an environmental message would," added California state Sen. Fran Pavley (D), who enlisted Bingham's aid in passing her Assembly Bill 1493, the first U.S. legislation to reduce greenhouse gas emissions in vehicles.
Pavley, whose seminal work has led to much of California's pioneering climate change legislation, found herself being converted by Bingham's message: "You always come away sort of inspired — like you're not working hard enough — after you talk to her."
A midlife reinvention
Although her growing flock sees the priest as a faith leader and an environmental organizer, Bingham was neither of these things for much of her life. Until the late 1980s, her primary role was as a wife and mother of three. Bingham lacked a college degree, enjoyed an affluent lifestyle, and has described herself during that period as "rather frivolous" and "a taker."
Her own conversion began 25 years ago with an itch to get involved in bigger issues. She was invited to join the board of a New York-based environmental group, the Environmental Defense Fund.
"That's where I started to get a really serious education about climate, about overfishing, about deforestation — all of the issues that are threatening the planet," Bingham said. "It was in this process that I realized religious leaders should be embracing this issue — that we can't sit in a pew and profess a love of God and profess love for our neighbors and then trash the Earth."
Bingham, a lifelong Episcopalian, wasn't aware of any environmentalist faith leaders at the time, so she decided to fill the niche. At age 45, she began the 10-year process of becoming a priest, ending with her graduation from seminary in 1994.
The transition wasn't always easy — Bingham was no longer married when she became a priest. But when asked about her midlife reinvention, she showed no signs of regret: "I truly believe that this was an invitation from God for me to start making people aware that environmental stewardship is a matter of faith."