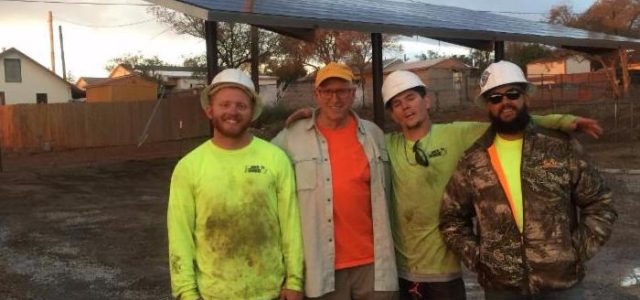 Bethany Christian Reform Church
Bethany Christian Reform Church Bethany Christian Reform Church completed their solar installation in the fall of 2017. In addition to this project, the Christian Reform Church has been involved in […]
AN EVENING WITH FR. JOHN DEAR

 

They Will Inherit the Earth:

Peace and Nonviolence

in a Time of Climate Change

 

St. Timothy Lutheran Church

Longtime activist, priest, author and Nobel Peace Prize nominee, John Dear will introduce his new book, "They Will Inherit the Earth." Connecting the way of active nonviolence with Climate Change, Creation Care and Solidarity, he cites Jesus' third Beatitude as the basis for his meditation: "Blessed are the meek, they will inherit the earth." Thomas Merton said "meekness" was the biblical word for "nonviolence" (in the Gandhi/King sense). The book invites deeper nonviolence, active solidarity with Mother Earth, suffering humanity, and a new culture of peace and nonviolence.

Books will be available for purchase and for signing

Light refreshments

 

Event co-sponsored by New Mexico Interfaith Power and Light; St. Timothy Lutheran Church; Inscape Ministries; Trinity House Catholic Worker; Campaign Non-Violence ABQ

Sign the Paris Pledge

What is the Paris Pledge?

Take the Paris Pledge and commit to reducing your carbon pollution by 50% by the year 2030 and to be carbon neutral by 2050. Together, we can make a real difference.

When you take the pledge, Interfaith Power & Light will provide you with helpful resources and tools so you can reach (and maybe even exceed) these commitments.

At the end of 2015, leaders from across the world met in Paris to negotiate an agreement on how climate change can be slowed. As people of faith, Interfaith Power & Light communities from across the United States brought to the table examples of what is possible by taking the Paris Pledge. By living as examples, we will show our world leaders that we believe change is not only possible, but happening now.

Will you join us? Sign the Paris Pledge and together we can show that a brighter future is within reach.
Faith Climate Action Week

Invitation for faith communities to sign up for sermons, films, programs, and action items. Sign up at http://www.faithclimateactionweek.org/ for resources, to post events on national calendar, etc.

Sign the Letter